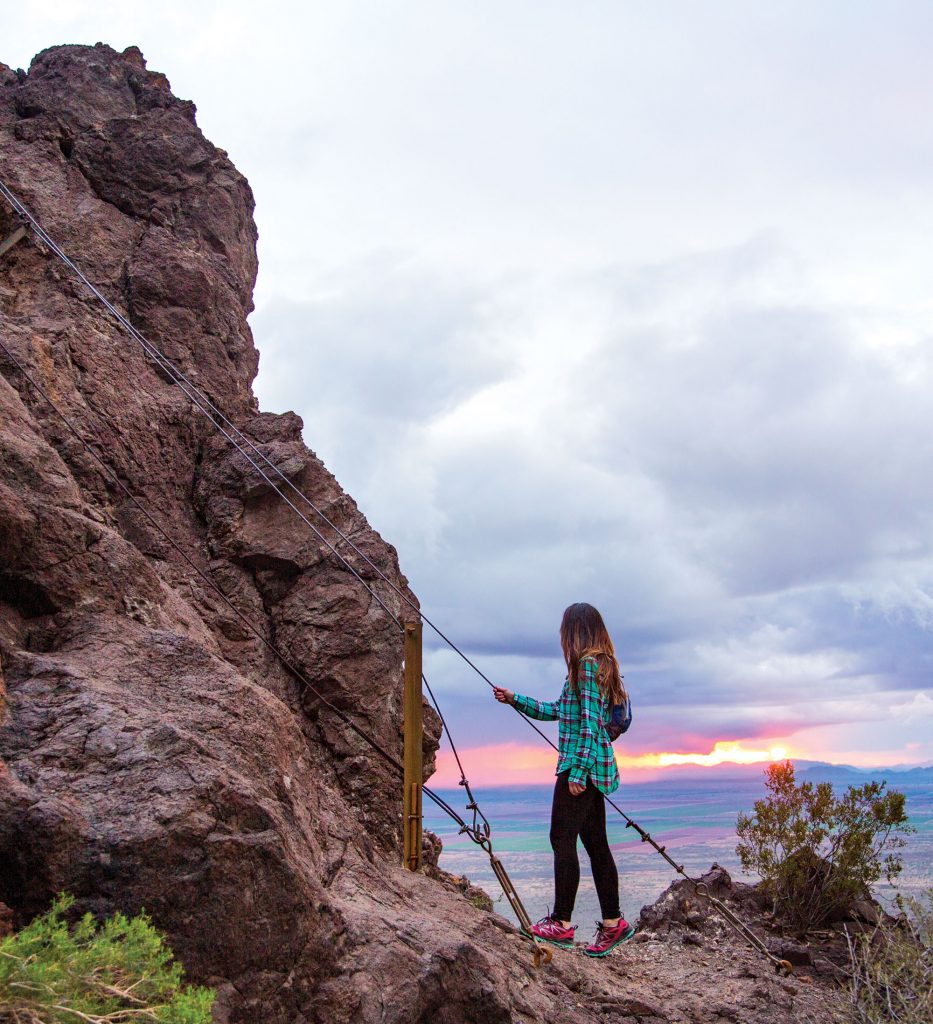 Hike Picacho Peak
We're not ashamed to admit that we subscribe to the notion that a New Year's hike kicks things off right. At the very least, it helps purge your hangover from the night before. The smart folks at Arizona State Parks agree. Join one of their First Day Hikes, guide-led journeys at trail hot spots around the state, each held on New Year's Day. The Picacho Peak option is ideal since the trek (ranging from 1.2 miles to 4.5 miles) can be difficult, with steep switchbacks, rock scrambles and elevation gain. Best to do it with an expert.
Safety First: Wear sturdy hiking boots and bring sunscreen and one quart of water per person.
Fees: No fee for guided hike, but park entrance fee applies ($7 per vehicle).
If You Go: 520-466-3183, azstateparks.com/fdh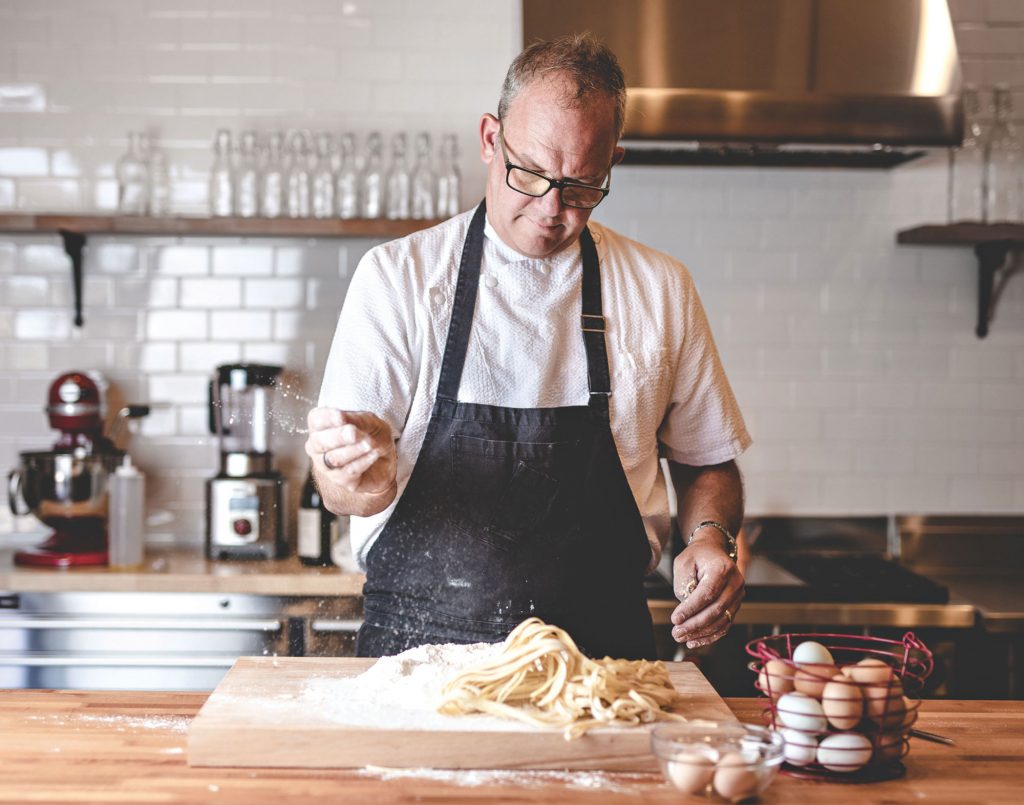 Be a Fancy Foodie
Somewhere in Prescott National Forest (we can't tell you where, its location is top-secret), herb-filled gardens border a courtyard with a stone pizza oven. Walnut trees edge a grassy lawn and a sprawling ranch keeps turkeys, chickens, pigs and Wagyu cattle. Luxury guestrooms with rocking-chair-adorned front porches cluster close – your accommodations for a foodie getaway at Terra Farm + Manor. Helmed by chef James Porter, this gastronomy retreat goes beyond cooking classes, although those are, indeed, part of the fun. You'll tour the farm, pair food and wine, hike, forage, taste and end each day with a multicourse meal that showcases the best of native Arizona foods. And you'll definitely leave with sharper axe-throwing skills than you came with.
Transportation Tip: The hosts at Terra Farm + Manor will pick you up from Sky Harbor or downtown Prescott to spirit you away to the property. Specify your preference when you make your reservation.
Fees: From $4,000 per couple for three days and $11,000 per couple for five days.
If You Go: 928-228-5510, terrafarmandmanor.com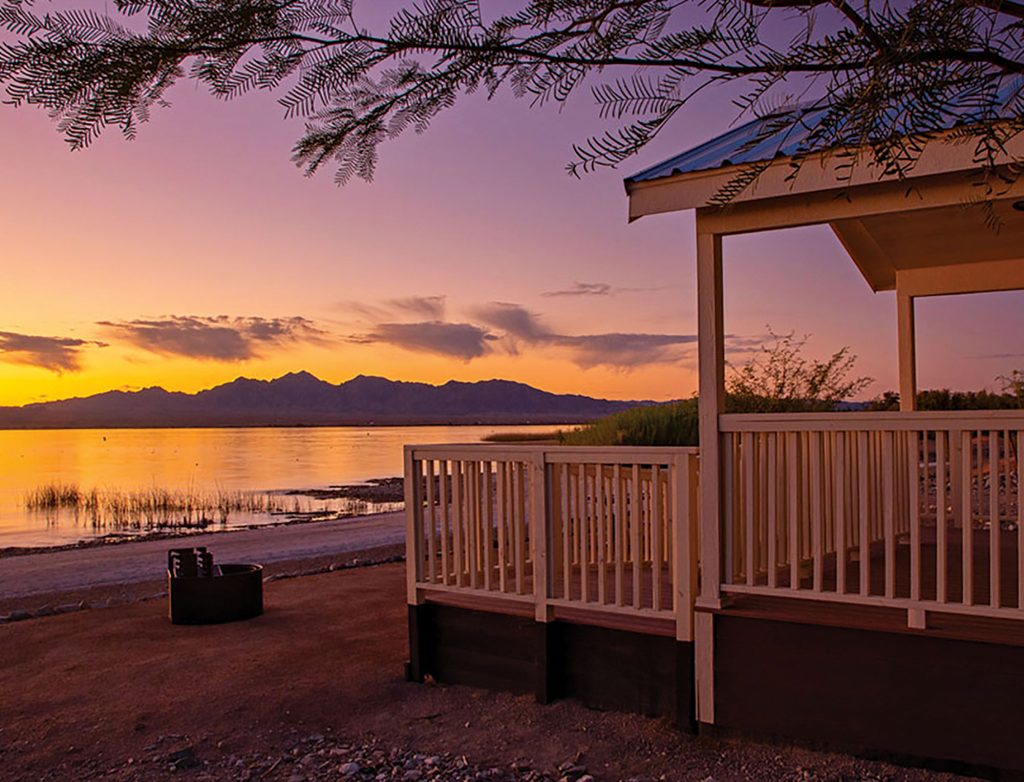 Sleep By the River
For a romantic getaway, consider a cozy cabin on the water. Lake Havasu State Park recently unveiled 13 new cabins, each set right on the Colorado River. Snuggle on the porch just feet from the beach, or huddle by the warmth of the fire crackling in your outdoor fire pit. These cabins best suit the laid-back couple. That's because while this isn't exactly roughing it (cabins come equipped with a queen bed and heat), guests of all 13 cabins must share the restroom facilities, located a short walk away.
What to Pack: Bring your own sheets, blankets and towels.
Fees: From $99 per night; $10 reservation fee.
If You Go: 699 London Bridge Rd., 928-855-2784, azstateparks.com/reserve/lake-havasu/cabins/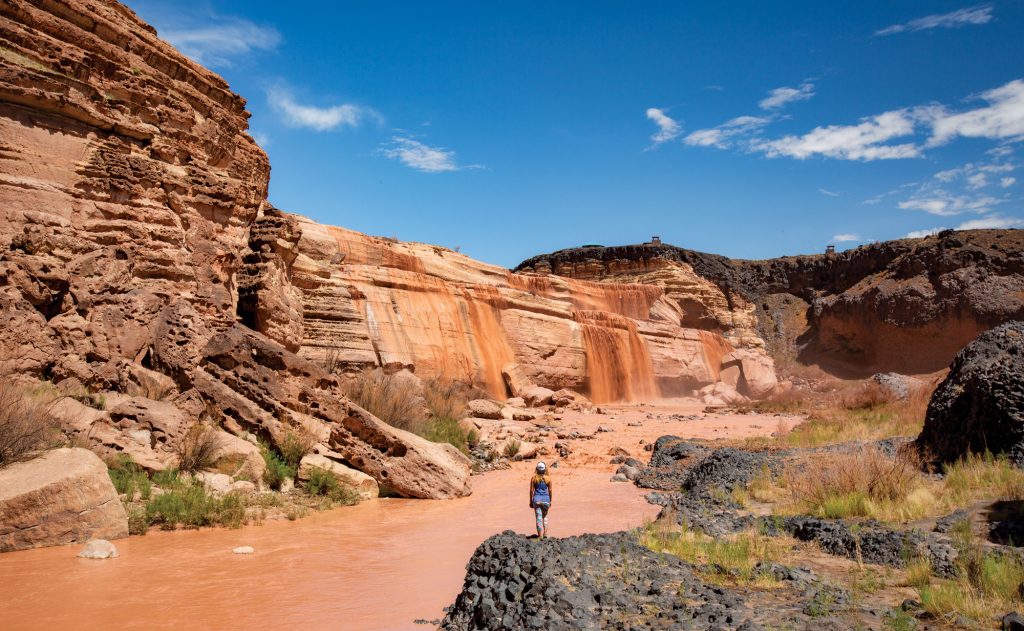 See a Waterfall Bigger than Niagara
Not only do Grand Falls drop 18 feet farther than Niagara Falls – 185 feet versus 167 – but silt from the Little Colorado River imbues the water with a cocoa color so the whole thing looks like an oversize chocolate fountain. And, in the dramatic fashion that only waterfalls possess, as the snow-melt roars over the rock terrace, clouds of mist create rainbow-hued sprays.
When To Go: To see the waterfalls at the peak of their power, check water level readings at the U.S. Geological Survey website (waterdata.usgs.gov/nwis). Make sure the reading is above 100 per cubic feet – if it registers in the thousands, visit Grand Falls within 48 hours.
Fees: None.
If You Go: Navajo Nation, 928-686-3227, discovernavajo.com/grand-falls.aspx. From Flagstaff, take I-10 East to Winona, drive north for 2 miles, turn right on Leupp Road, follow it for 15 miles to Indian Road 70, then follow the signs for Grand Falls (8.5 miles ahead at the end of Indian Road 70).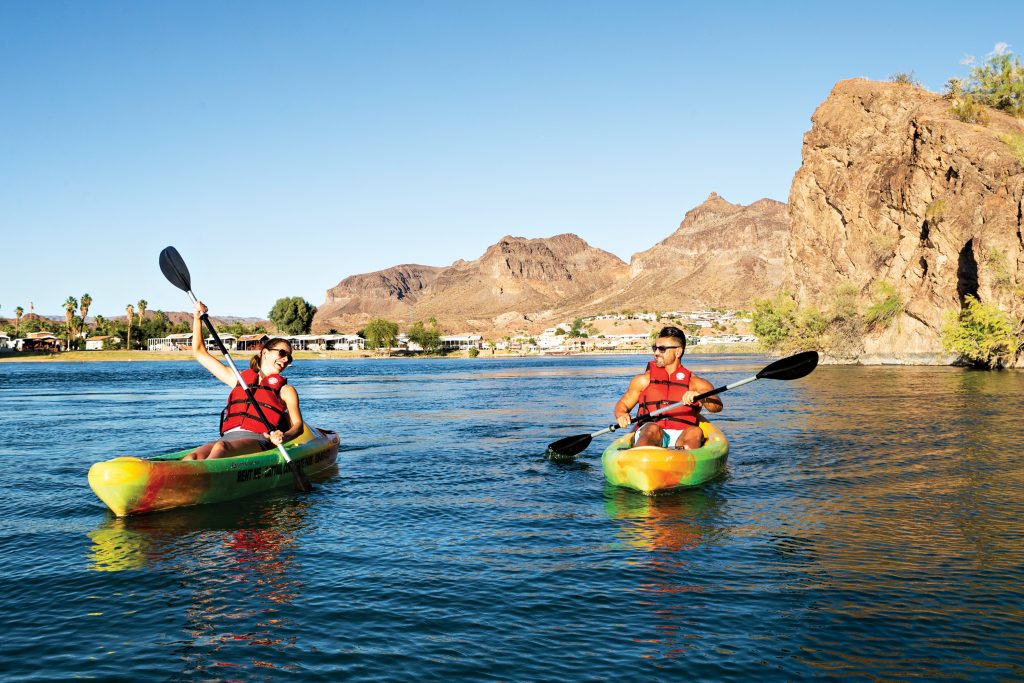 Bask at the Beach
We love San Diego as much as the next heat-addled Phoenician. But you don't have to venture across state lines for a hot-weather respite. In Parker, River Island State Park offers white sandy beaches along the Colorado River with lots of shoreline for water play. The park is situated in a tidy cove protected from the river's current, making swimming especially ideal. Pups are welcome on the beach, and kayakers, paddleboarders and canoers can launch their vessels from the park's boat ramp. The 37 scenic campsites sit in the shadow of the Buckskin Mountains, so if you want to make a night of it, pack your tent and sleeping bags.
Where to Eat: Picnic! The nearby Buckskin Mountain State Park has a general store – perfect for picking up sundries and snacks.
Fees: $10 per vehicle.
If You Go: 5200 N. Hwy. 95, 928-667-3386, azstateparks.com/river-island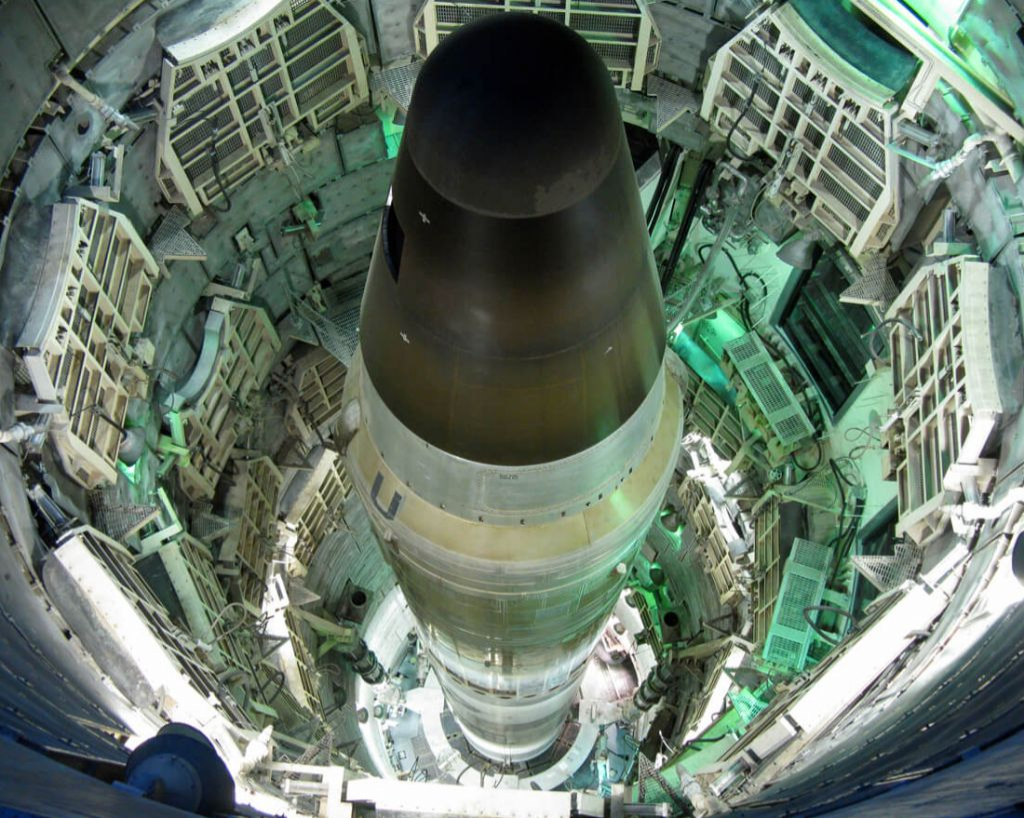 Tour a Missile
Nine stories tall and buried underground in a silo. That describes the Titan II missile, an intercontinental ballistic remnant of the Cold War that was deactivated in 1984. More than 50 Titan II launch-control centers were scattered throughout the United States. But now only one remains, and it lives at Arizona's Titan Missile Museum. The site, today a National Historic Landmark, is equal parts creepy and fascinating. During a one-hour guided tour (offered daily), you'll descend nearly 40 feet below the ground to check out the control room, tunnels and antenna tower before seeing the Titan II missile up close.
Fun Fact: Scenes from the 1996 movie Star Trek: First Contact were filmed here.
Fees: $13.50 per adult, $10 per child ages 5–12, reservations required.
If You Go: 1580 W. Duval Mine Rd., 520-625-7736, titanmissilemuseum.org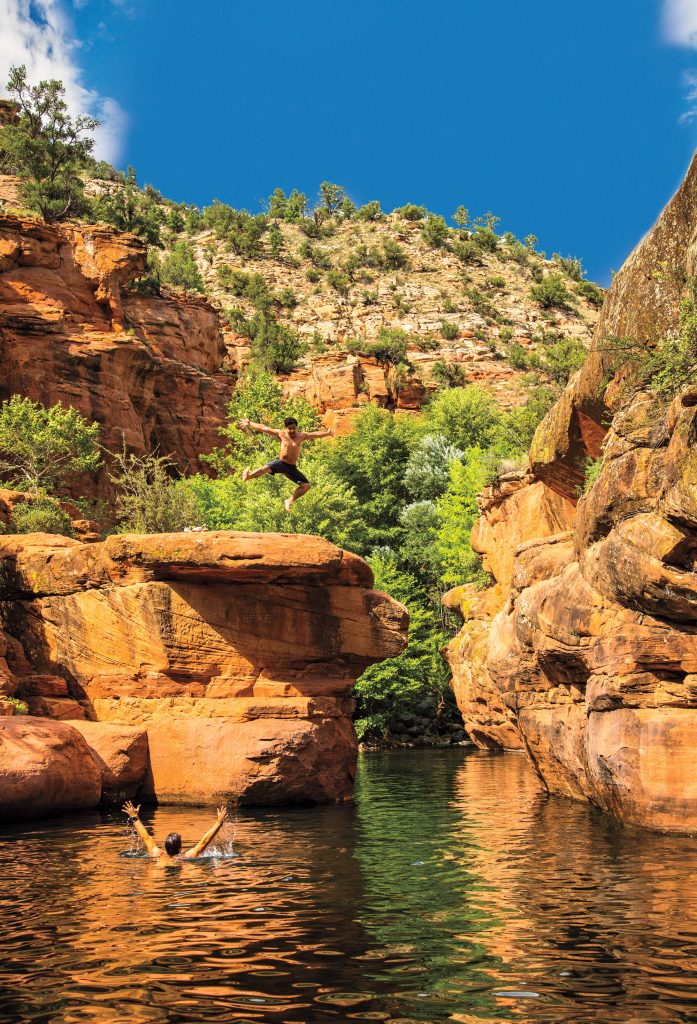 Descend into a Volcano
There was once a man who bought a volcano. The year was 1977. The man was James Turrell, an artist renowned for works that explore light and space. Roden Crater, a dormant cinder cone in Northern Arizona, has become Turrell's still-in-progress masterpiece. Its contribution to the art world is, to put it plainly, a big deal. That's why supporters include the Guggenheim, the Smithsonian, the National Endowment for the Arts and, yes, Kanye West. The large-scale artwork invites you into the depths of the cone, where tunnels give way to skyward apertures that capture sunlight during the day and planets and stars at night for an immersive experience into the contemplation of light and darkness.
The Caveat: Turrell fans feel certain that Roden Crater will open to the public this year. But the artist has been working on the project for decades. What can we say? A magnum opus takes time.
Fees: TBD
If You Go: rodencrater.com, info@rodencrater.com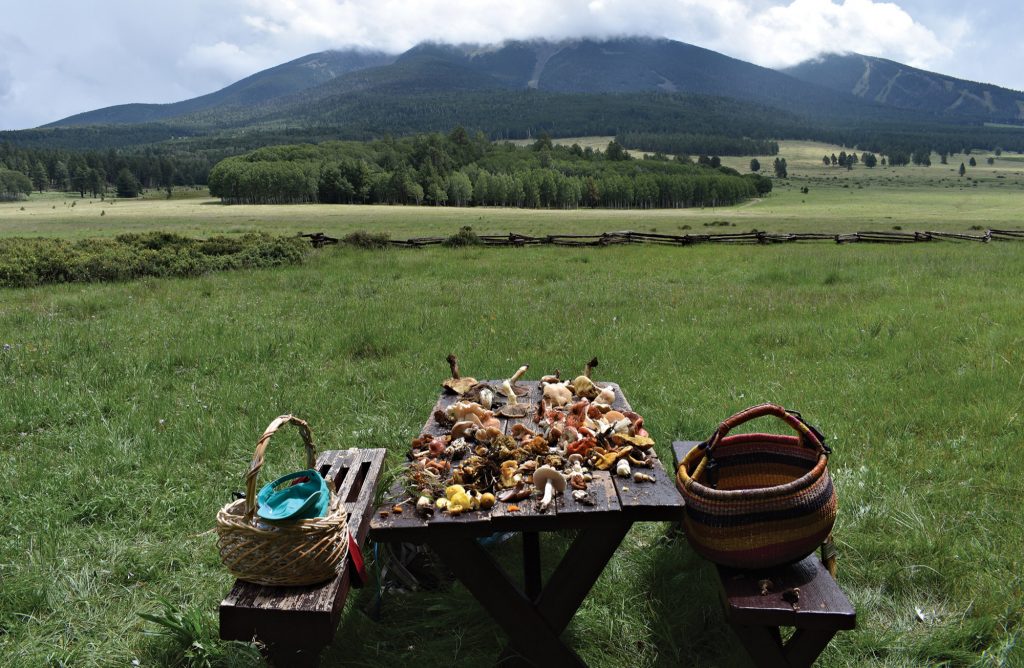 Go 'Shrooming
Not the psilocybin-y kind, silly. Foraging for mushrooms! At Hart Prairie Preserve, join the Arizona Mushroom Society for the annual Pick and Cook Foray, a foraging adventure that's equal parts educational and delicious. With the guidance of an expert, you'll collect edible mushroom species, cook them at the historical Hart Prairie Preserve Lodge, pair the mushrooms with wine, and then eat them. The expedition starts at 9 a.m., returning to the lodge by mid-morning to cook and taste. The event concludes by 2 p.m.
Duly Noted: It should go without saying, but do not forage for mushrooms – or consume wild mushrooms – without first checking with an expert on whether or not they're edible.
Fees: $45 per person, with proceeds going to The Nature Conservancy.
If You Go: 480-326-6863, arizonamushroomsociety.org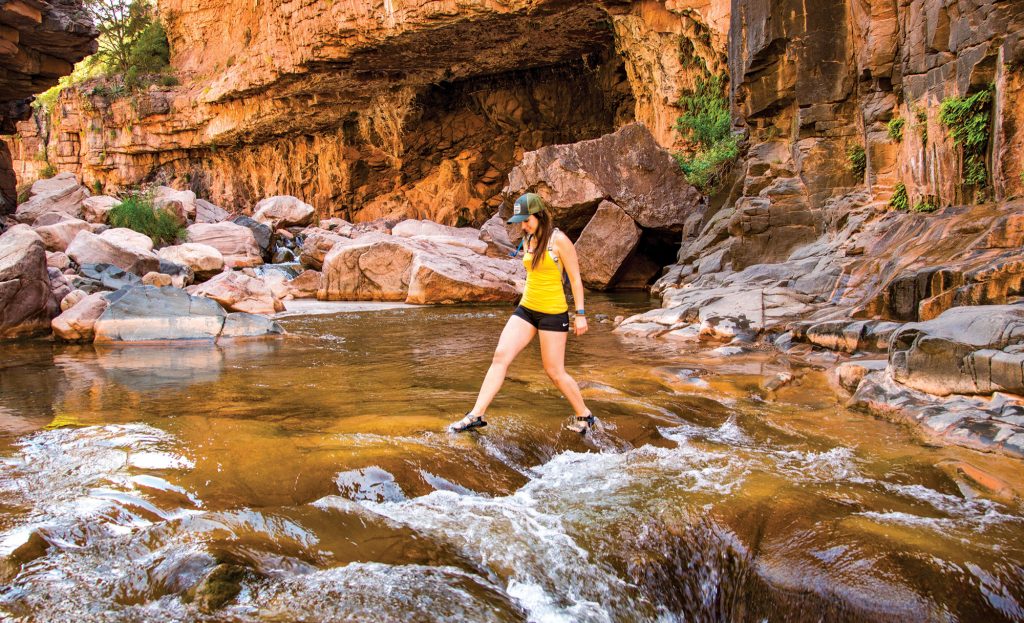 Cibecue Falls
Securing a permit to camp at Havasu Falls is notoriously difficult. Let us introduce you to Cibecue Falls, a worthy understudy. The 80-foot cascade drops over the jagged walls of Cibecue Canyon on the White Mountain Apache Tribal Land. A blue-green, mineral-rich pool sits below, with water so clear you can see the smooth rocks on the bottom. To reach the falls, head out on a 2-mile hike (one way) that crosses Cibecue Creek as it carves through the canyon. Prepare to get wet; wear water shoes and pack a change of clothes.
Before You Go: Because you're traveling on native land, you will need to obtain a permit ahead of time for this adventure. But good news – they're easy to snag.
Fees: $30 per person per day, available online.
If You Go: 928-338-4385, wmatoutdoor.org